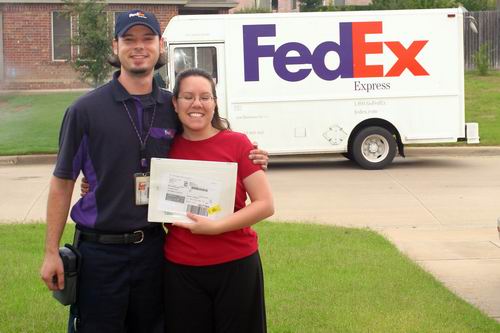 So we left a note on the doorbell before going to sleep asking the FedEx person NOT to leave and please wait. The doorbell rang and I jumped up and charged for the door with Mike laughing behind me. I flung open the door and told the guy he was the Stork. I asked him if he would pose for a photo, which is so silly but was fun! He was really cool about the whole thing. All our official documents were in there and we have got to get them signed and returned to Great Wall in Austin early next week. I took her medicals to the doctor today and dropped them off. It was weird, but cool to go to a pediatrician.
Her translated growth report came through today too and I have included it here. She was 5 months at her medical exam for the adoption and I think that is her age in the photos. Her growth report was from April 12, 2007. My personal favorite part is where they say she is extroverted!
Growth Report on Long Liyun
Long Liyun, female, born on 10-28-2006, was found abandoned at Suichuan bridge on 10-29-2006. She had round face, white skin, and dark hairs. The police department found her parents in vain and ratified her as an orphan, then sent her into our institute. Our staff estimated her DOB according to her umbilical status. We named her Long Liyun. Long is the surname shared by all children in our institute, Li means beauty and Yun means rhyme.
When she was sent here, our doctor did an overall examination for her and found she is in good health. When she was 1-month old, she always held fists and occasionally opened her hands. If she felt hungry, she would cry. But as soon as she was fed, she would stop crying and calm down. When she was 2-month old, she could raise her head when lying on her chest. If you put a toy into her hand, she would open her hand and try to grasp it. At this time, she could see the object put 20cm far from her. She could also locate sounds. When she was 3-month old, she liked to observe her hands and wave them in front of the chest. Occasionally, she would put the finger into mouth, sucking. Her sight and hearing were better than before. When she was 4-month old, she could sit steadily with assistance. At this time, she could understand the facial expressions of the adults. If she saw the caregiver looking at her seriously, she would lower her head. When she was 5-month old, she became extremely interested in colorful toys. She liked to walk in the walker because in the walker she could go everywhere she wanted to go and see everyone she wanted to see. She often babbled at this time.
She is extroverted. She likes to watch TV and listen to the music. Sometimes, she is fussy.
Now, she is developing well and good at sucking. She has 6 meals per day, 190ml per meal, mainly eating milk and cereals. She has her meals at 5:00, 8:30, 12:10, 15:30, 18:50 and 22:25. She has 2 naps in the daytime for about 1.5 hours each and sleeps 12 hours in the evening. She sleeps through the night. Her relieving is good. She is on her immunization.
Prepared by Suichuan County WI, Jiangxi
04-01-2007